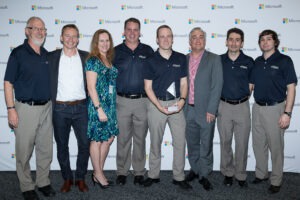 Advance Computing has won the Microsoft Australia Partner Award for 2016 in the Excellence in Regional Customers category. This was the first time an award specific for excellence outside a capital city had been awarded. The Industry holds this award in high regard and is great recognition for the IT talent to be found in Kyabram.
Photo attached from the award evening with L-R: Rod Cairns (Advance Computing), Brad Clarke & Samantha Zammit (Microsoft), Mark Schumann & Chris Motton (Advance), Alistair Stratford (Microsoft), David Bartlett & Aaron Gill (Advance)
Congratulations to Advance Computing for receiving this award. And that's not the end of it - The team have also been receiving press coverage for work they have been completing in the  Agribusiness industry. View the Agribusiness link to read more about the great work Advance Computing are leading the way in.